October Presenters
Ana Victoria Lantigua Zaya
Cristina D. Olán Martínez
​Idania Argueta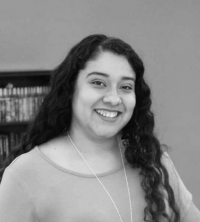 Idania Argueta was born in Los Angeles California, but raised in Houston since the age of 4. At the age of 5 Idania's family became members of San Mateo Episcopal church in Houston. There they were part of many ministries. Idania was an acolyte, a singer in the church band, a teacher in children's ministry, and later on became part of the vestry. Idania dropped out of high school in the 10th grade, but years later decided to go back for her High school diploma through a homeschool program. Right after obtaining her high school diploma, she enrolled in HCC (Houston Community College). After receiving her associates in arts degree, she transferred to UHD (University of Houston Downtown). There she obtained a bachelor's as a bilingual elementary school teacher. She did all this all while still being a mother of 2 beautiful girls, a wife to an amazing husband, a friend, and an active member of the Episcopal church. She left the Episcopal church two years ago, but her heart remains with the Episcopal church.
Ana Victoria Lantigua Zaya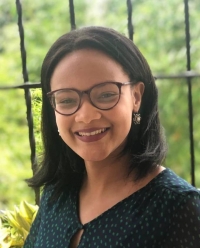 Ana Victoria was born on October 19, 1995, in the city of Puerto Plata, Dominican Republic. She is the third daughter of four siblings.
Licda. In Social Communication, mention journalism by the Autonomous University of Santo Domingo (UASD). Master of ceremonies, storyteller, Scouts, broadcaster and actress in training at the National School of Dramatic Art (ENAD).
In the Dominican Episcopal Church, she has served as National Youth Coordinator, member of the Vivencia Ministry team, member of the Communications Committee for Episcopax Magazine.
She has given talks on communication strategies for social networks, volunteer in summer camps and Bible schools, volunteer at the Center for Theological Studies (CET), member of the Planning team of EJE 19, collaborator in the writing of stories for brochures summer Bible school, as well as holding different positions in different local congregations.
She currently works at the San Marcos Episcopal College as an initial level assistant, cultural activities advisor and master of ceremonies. Together with other young people from the church, he works on a project for a digital station. In collaboration with youth groups, he performs theater presentations that are aimed at children and the elderly. She is in charge of the Sunday Bible school and coordinator of the summer Bible school of the San Marcos Helped Parish.
Cristina D. Olán Martínez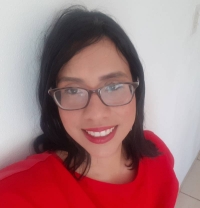 Cristina was born, raised and lives in Mayagüez, PR. She is a member of the San Andrés Episcopal Parish, the third oldest congregation in the Diocese of Puerto Rico and coordinates the Youth Ministry of the Diocese of PR along with a wonderful team. She is 36 years old and has been an Episcopalian her entire life. However, it was at the age of 16 that she decided to continue being an Episcopalian by choice and not by habit. It was at that time that she took the courses for Lay Minister of the Eucharist and Eucharistic Visitor, a vocation that she exercises to this day. She has been working for Episcopal youth from high school on both the local and diocesan levels. She was part of GENESIS and about 10 years ago he joined the Youth Ministry work. Currently, she works as a freelancer editor, writer and social media manager. Her main work is done with the Caribbean Fisheries Administration Council. In addition, she is a member of the Board of Directors of the non-profit organization Plenitud PR. Her favorite Bible verse is: "Create in me a clean heart and renew a steadfast spirit within me."
Anthony Rodriguez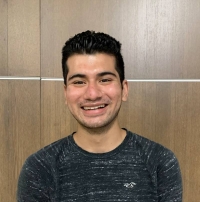 My name is Anthony Rodríguez, I am 20 years old and I attend San Mateo Episcopal Church in Houston, Texas. I have always loved being active in church since I was a child. Now I am one of the leaders of the children's ministry and I serve God with all my talents.
​Maria Bautista Vargas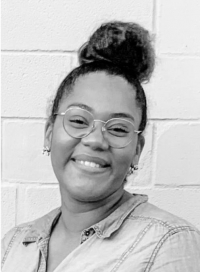 Maria Bautista Vargas is Missioner/Church Planter at Episcopal Church in Northshore, her focus is developing an Episcopal presence at between Hwy 610 and 8 in the East Harris Convocation of the Diocese of Texas. Previously Maria was the Missioner Associate for Houston Canterbury, an Episcopal Campus Ministry at Texas Southern University, University of Houston, San Jacinto and Houston Community College. Maria graduated from the University of Houston-Downtown with a B.S. in Psychology in 2018.
Prior to work in the Diocese, Maria was working as a Community Organizer with The Metropolitan Organization (TMO), as well as the Youth Group Coordinator for Epiphany Episcopal Church. Maria was previously the Chair for the Commission on Black Ministry.
Maria grew up within the Episcopal Diocese of Washington D.C. and moved to Houston in 2014, along with her parents, The Rev. Simon and Amarilis Bautista and her siblings Tito, Leaquina and Lily. With two parents from the Dominican Republic, Maria is bilingual in both Spanish and English. She enjoys musical theater-Hamilton, traveling with her fiancé, Fabian and spending time with her pups; Milo and Noelani.